From Your Capitol - Week of March 6
With only three weeks left in the 2017 legislative sessions the Mississippi House is reaching some of its final deadlines. Wednesday marked the deadline for the House to discuss general bills that passed through the Senate earlier this session. The deadline to discuss appropriations and revenue bills passed by the Senate will occur next week.
On Monday, the House passed Senate Bill 2680, which clarifies alternative relatives that may care for a child who is being abused or neglected. An amendment was adopted regarding a current divorce statute, making it easier for someone experiencing domestic violence to receive a divorce. The amendment says divorce would be allowed for people experiencing abusive physical conduct, either threatened or attempted, or abusive non-physical conduct including threats, intimidation, emotional or verbal abuse. The measure also allows for a victim to serve as the witness of the abuse. The bill passed unopposed.
On Tuesday, the House passed Senate Bill 2710, which will prohibit the adoption or enactment of sanctuary cities. A sanctuary city is loosely defined as a city that welcomes refugees and illegal immigrants. Supporters of the bill say this is an extra measure of safety for Mississippi residents. Those opposed say this legislation is unnecessary. The bill passed by a vote of 76-41.
A bill meant to give a tax exemption to private entities providing affordable housing for university students sparked discussion at the proposal of an amendment. An amendment added to Senate Bill 2509 would require schools to fly the state flag on their campus to receive this benefit. Proponents of the amendment said state schools should be flying the flag if they want to receive state money. Opponents said the flag is divisive and should not be forced on the schools. The bill passed by a vote of 77-42, but is being held on a motion to reconsider.
I was happy to see that leadership in the legislature finally listened to those of us who have agreed repairing our roads and bridges is important but that increasing taxes on the citizens of Mississippi was not the appropriate way to accomplish that goal. We have demanded that the State reallocate money for that purpose. The amendment to Senate Bill 2939 would provide $50 million in bonds for bridge repairs and allocate use tax to the Mississippi Department of Transportation, counties and municipalities for infrastructure repair. This bill does not take any additional money from the people.
The bill also states that in the event a use tax from out-of-state sellers becomes federal law or the state experiences revenue growth, a certain percentage will be set aside for road and bridge improvements. The bill passed by a majority vote of 109-7.
The House proposal outlines:
$50 million in bonds: $25 million to counties, and $25 million to cities for bridge repairs.

Allocating the use tax Mississippi is already receiving through voluntary payments on out-of-state purchases by Mississippi residents: 50% to MDOT if they internally reallocate $25 million in their existing budget to prioritize road and bridge repair, 25% to counties and 25% to cities for road and bridge improvements.

That if federal law changes, allowing for the collection of the use tax from out-of-state sellers, Mississippi will spend up to $200 million of that money on road and bridge improvements.

When our state general fund revenue grows more than 2% in one year, 50% of those dollars beyond the 2% growth (up to a max of $100 million) will be devoted to road and bridge improvement under the same formula.

this law would automatically repeal after 8 years to allow the legislature to reevaluate the needs of MDOT and or roads and bridges.
This solution is a win for the people of Mississippi and was possible only because the citizens demanded government make difficult decisions and not take the easy way of increasing taxes.
Dyslexia Scholarship Legislation
The Senate adopted legislation to expand the Dyslexia Scholarship program in a 30-19 vote. House Bill 1046, which makes a number of improvements to the current Dyslexia Scholarship program, is now headed to the House of Representatives.
HB 1046 makes a number of important changes to the Dyslexia Scholarship program.
The scholarships will be expanded to students through 12th grade. The program is currently only available through 6th grade. This will serve students who did not receive the appropriate dyslexia services when they were younger.

Accredited private schools will be allowed to accept the scholarships, provided they meet all the standards, including employing Mississippi licensed dyslexia therapists. The program currently requires schools to be accredited by the Mississippi Department of Education, which significantly limits the number of schools who can participate.

Students living in border counties will be allowed to use the scholarship in another state, if appropriate educational services are not available within thirty miles of the student's home.
First enacted in 2012, the Dyslexia Scholarship program has served hundreds of students over the past five years.
Visiting Your Capitol
This week the officers of the Delta State University Student Government Association visited the capitol. As an alumni of Delta State it was a pleasure to have lunch with some of these students and catch up on what is happening on campus. I was also happy to meet Meaghan Vogelsang from Hernando. Meaghan is a commercial aviation major and aspires to be a pilot for Fedex. I hope one day Meaghan can join me as my first officer as we fly your packages around the world for overnight, on time deliveries.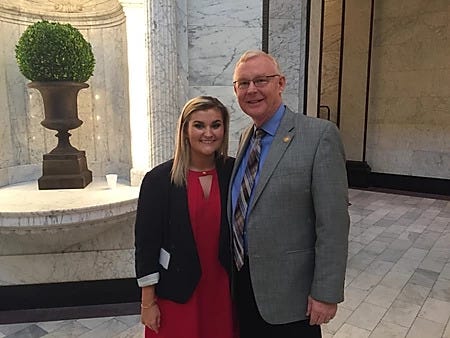 Thank you to the people of Olive Branch and Desoto County for allowing me to fight for your rights in the Mississippi legislature. This is the toughest most difficult job I've ever undertaken but also the most satisfying. I am proud to be from Olive Branch and Desoto County.