Discover more from Dana Criswell
This is not about friendship, its about saving our country by advancing conservative principles.
Over 51,000 subscribers
From Your Capitol - Week of January 16
The third week of the 2017 legislative session began Monday with a joint Education and Appropriations committee meeting, where the consulting group, EdBuild presented their recommendations to revamp the state's education funding formula. Mississippi's formula for funding our educational system was developed over 10 years ago by democrats who value appearance over substance. The formula has only been "fully funded" twice in its history because it was designed to win votes at the ballot box with no thought about what the state could afford or what is best for students.
EdBuild suggested increasing the base student cost, or the amount of money used to educate the average student, with weights added for students with specific needs. Weights would be included for Low-Income students, English Language Learners, Special Education students, gifted students, students in the lowest and highest grade levels and students in rural or sparse school districts.
Our current funding formula guarantees the state fund 73 percent of the cost of educating our children, only 2 other states make any guarantee, one guarantees 2% and the other less than 50%. EdBuild suggested reconsidering this percentage and allowing school districts to exceed the state cap on the amount of local funds they can raise for their schools.
A more detailed account of the recommendations can be found on the state website at www.legislature.ms.gov.
Legislators are now studying EdBuild's recommendations and deciding if we should make changes to our current method of funding education. I participated in 2 additional meetings with EdBuild during the week where legislators asked questions and dove deeper into their recommendations.
Tuesday was the final day for legislators to submit bills for consideration. Just before the deadline Tuesday evening I submitted my last bill for the 2017 session. HB1102 - State entities; require to undertake certain steps before entering into agreements with the federal government. Referred To Accountability, Efficiency, Transparency. I'm very hopeful this bill will receive serious consideration by the leadership and other legislators.
The purpose of this bill is to provide for transparency and public dialogue regarding agreements state agencies and localities wish to enter into with the federal government. We all know that federal money always comes with strings, the people of Mississippi should know what their government is agreeing too.
The funding and regulatory obligations contained in many of the federal agreements are not always well understood or thought out by agencies and localities. In addition, these agreements place federal priorities over local priorities and resources that may be better used on other projects.
Texas passed legislation (HB 1846) in 2015 that accomplishes part of this objective by requiring notice and comment for agreements related to the federal Food, Drug and Cosmetic Act. https://legiscan.com/TX/research/HB1846/2015. The people of Mississippi have a right to the transparency this legislation would provide.
Visiting Your Capitol
On Tuesday Senator Tom Coburn of Oklahoma spoke to the Mississippi House Conservative Coalition. Senator Coburn related to the group of conservative legislators his experience in the U.S. Senate and why he believes Mississippi must join the Article V Convention of States. He gave examples of how careless and reckless our elected officials in Washington D.C. are with our rights and our future.
Representatives Dan Eubanks (Desoto County), Steve Hopkins (Desoto County), Chris Brown (Itawamba), and myself have sponsored House Concurrent Resolution No. 43 (United States Constitutional Amendment Convention of the States under Article V). We hope other legislators will join us as we strive to reign in the out-of-control federal government.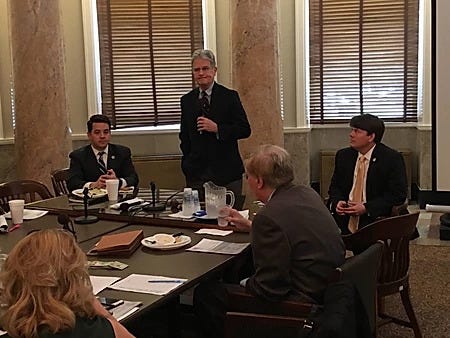 Learn more about the Article V Convention of States on their website, www.ConventionofStates.com