Discover more from Dana Criswell
This is not about friendship, its about saving our country by advancing conservative principles.
Over 51,000 subscribers
From Your Capitol - Lies, Back-Room Deals, and Deceit
Folks have asked me from time to time to tell them what it is like to be a member of the Mississippi Legislature. Well, I have a story from this week at your capitol that highlights just how dirty and unethical some politicians are. Most of you assume that you have elected principled men and women to represent you in the legislature and that they will work for issues that are important to you and your family. You assume that if the person has campaigned on a principle such as lower taxes, they will always advocate for lower taxes. Nothing is further from the truth in most cases. Many who campaign on the conservative Republican platform and claim to adhere to its tenets make no effort to uphold those values and principles. They not only do not vote for these conservative principles they go so far as attempting to harm those who do uphold and vote for conservative principles.
Most of you are unaware of the behind the scenes back room deals that take place in your capitol every day. An issue that came to the forefront this week is local taxes and the process that has developed to hide them from you. I have fought against these taxes since my first day in the legislature. Each year local governments take over $90 million out of our economy through these local taxes. That is money right out of your pocket. These taxes are clearly harmful to you the taxpayer and directly opposed to the basic Republican platform which states:
"Mississippi Republicans support the reduction of the tax burden on our citizens. We believe our tax burden is too high, our tax code is too complicated, and our tax system is inefficient. We believe in the reduction of taxes to empower taxpayers, to create a more competitive environment for job creation, to incentivize work, entrepreneurship, and investment, and to prevent the excessive growth of government"
I have drawn criticism from local officials and other legislators by voting against these local taxes. They are upset because my vote to uphold the Republican principle of lower taxes serves to highlight their vote to raise taxes and against the principles they were elected to uphold.
This week it all came to a head
In an attempt to compromise me and make it look like I support these tax increases Senator Blackwell of Olive Branch attached my name to a tax increase for the city of Olive Branch. He amended the bill naming it the "DANA CRISWELL MUNICIPALITY TOURISM TAX ACT".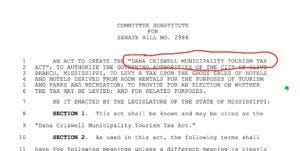 I have never supported these taxes and do not support this tax on the citizens of Olive Branch.
I do not believe you can claim to support the Republican platform of lower taxes and support these local tax increases.
The American Conservative Union, the oldest conservative lobbying group in the country, gave Senator Blackwell a score of only 57% for his liberal voting.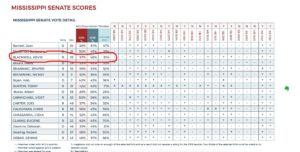 During the same year I received the American Conservative Union's Award for Conservative Excellence with a score of 95%. I have also been asked by President Trump to serve on his government deregulation task force.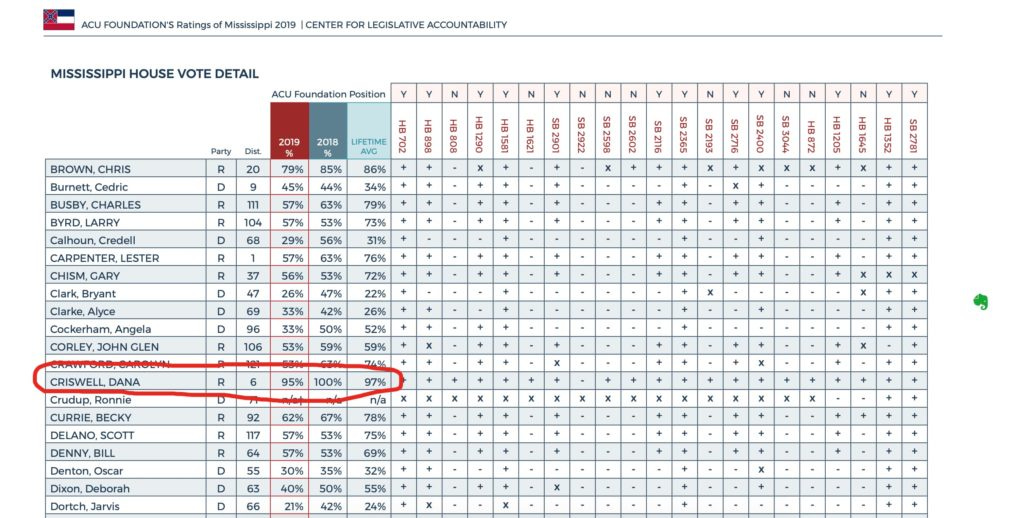 So who is the real conservative?
Is the real conservative the politician who tries to silence and compromise someone who upholds the conservative values you believe in, or is the real conservative the one who stands up and fights for your principles and values?
You decide.
I will continue to stand against the liberal agenda of increased taxes and back-room deals that compromise your principles and values, no matter the insults or pressure I receive from other politicians.
UPDATE: Desoto county Senators David Parker and Mike Mclendon have removed their names from the bill to show they do not support Senator Blackwell's dirty tactics.  Also, the Mayor of Olive Branch informed me that he intended to rescind the request for the tax.