From Your Capitol - January 8, 2019
On Tuesday, January 8 the 2019 session of the Mississippi legislature began. This is a 90 day session and the last of my first term in office. In 2015 I was elected as an outsider who sought to make changes to how our government works. I ran because I was tired of career politicians telling the people of this state that holding to true conservative principles was impossible. I rejected that idea before and I reject that idea now.
Over the last three years I have held true to my principles and convictions and my voting record proves that fact. I have consistently voted against tax increases, even those like a gas tax and cigarette tax that was promoted by leaders of my party. I held strong against local taxes and a process that tricks local residents into believing the taxes they authorize will one day end.
As an active member and sub-committee chair on the Education committee, I defended and helped pass legislation that promotes higher standards for our public education students. I also helped pass the third-grade reading gate that required students read at their appropriate grade level before being promoted to the fourth grade.
I have also been instrumental in promoting and furthering more options for parents through expanding education scholarships and school choice.
Even with these accomplishments I have discovered that the ability to stand alone and to lead a fight against bad legislation is sometimes my strongest asset. I did not run for election to make friends in Jackson and I am not interested in furthering a career in government. This freedom has given me the ability to oppose legislation even when it creates friction between me and those in leadership positions. I am proud of the role I've played, often behind the scenes, in killing bad legislation.
What's in store for 2019?
The first week of every session begins slowly as committees wait for bills to be assigned. Legislators spend time with the House attorneys as they finalize each bill and prepare for the January 16 deadline.
I have several bills currently being drafted that deal with education, gun rights and farming. In next weeks newsletter I will list each of my bills so you can follow them through the legislative process.
Every year the capitol is visited by the Mississippi Parents for Vaccine Rights. I am proud to support these parents as they fight for the freedom to make medical decisions for their children. We cannot allow bureaucrats in government to make health decisions for our children. That right and responsibility was given to each parent by our Creator, the State cannot usurp that authority for any reason.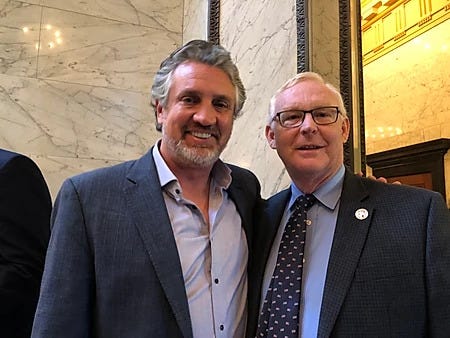 If you are interested in learning more about this topic I highly recommend How to End the Autism Epidemic by J. B. Handley. In his book he explains precisely the problems and dangers of some of the vaccines that are forced on our children. This is information every parent and grand-parent should know.
I want to be as open and accessible to you as possible. I will continue to send weekly email updates with a recap of the week's legislative actions and update regularly on Facebook.
If you have any questions, concerns, or request, please email me at criswelldana@yahoo.com or give me a call on my cell phone at (901) 275-4191.
It is an honor to serve you, and I humbly ask for your prayers as we seek to make decisions that help the people of our state.
Dana